Ambuluwawa Tower
Overview
Ambuluwawa Tower is located in the suburbs of Gampola Town in Sri Lanka. There has been an increased popularity in recent times especially due to the breathtaking views you can experience when you climb to the top of the Ambuluwawa Tower. It is also known for its narrow spiral staircase which some visitors find challenging to climb. It is one of the coolest places to visit in Sri Lanka if you are up for the challenge.
Ambuluwawa Mountain
Ambuluwawa mountain peak has a height of 3567 feet above sea level. It is located over 1000 feet above from the Gampola Town. The tower is located on the summit of the mountain peak. Since there are no other mountains in the surrounding area and due to its unique location, Ambuluwawa Tower gets an undisturbed view from far away and vice versa. The tower is visible from Gampola Train Station.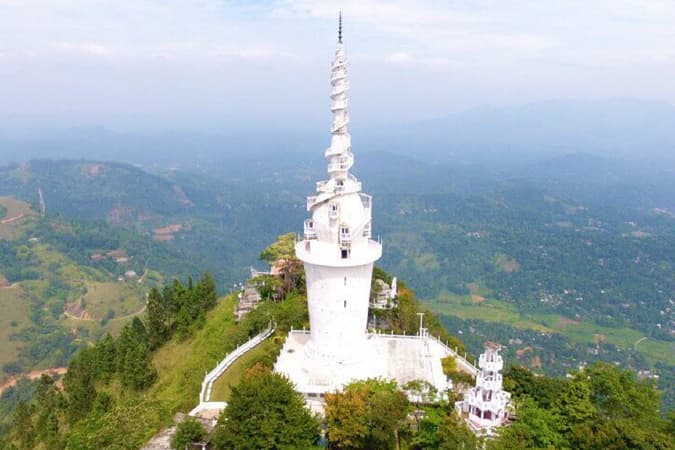 Ambuluwawa Tower
The 48 meters tall, cone-shaped tower houses the Stupa (Pagoda) of the Buddhist Temple. As you climb up, it has several viewing platforms for you to enjoy the stunning views. The staircase gets narrower as you go up. The spiral staircase will be a challenging one to climb if you are not comfortable with heights.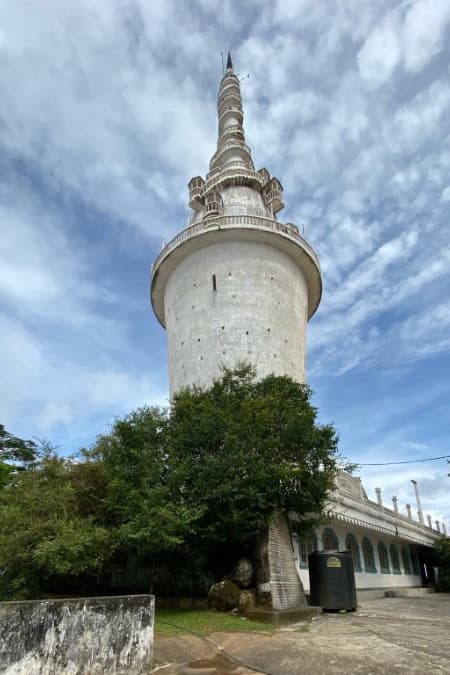 Biodiversity Complex
Ambuluwawa Biodiversity Complex is the first of its kind in Sri Lanka. It was opened in 2009. It is home to a variety of plants. It is considered as the fourth botanical garden in Sri Lanka.
It is a multi-religious centre where followers of all faiths practiced in Sri Lanka come to practice their religion. It consists of a Buddhist Temple, Hindu Temple, a Church, and a Mosque.
Getting there:
Nearest Town: Gampola
You can travel by train to visit Ambuluwawa Tower. Gampola is the nearest train station.
It is advisable to hire a tuk-tuk/taxi from Gampola if you are getting there by public transport.
Gates open at 8.30 am.
The distance from the entrance to the mountain peak is about 2.5 -3 km. You can take your car, hire a TUK TUK or walk to the top.
Address:
Ambuluwawa Biodiversity Complex
ICC Road
Ambuluwawa
Sri Lanka.
Google Map Location: https://goo.gl/maps/a2uFQ2RtdjgiEbki9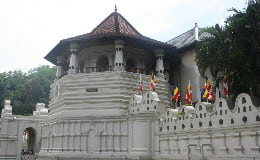 Situated in the ancient kingdom in the central highlands of the country Temple of the Tooth Relic in Kandy also known as Dalada Maligawa is considered one of the holiest and sacred sites for Buddhists. It is believed that the Temple is home to one of the tooth relics of Lord Buddha.
More..