Colombo 07 or Cinnamon Gardens as it is also known is one of Colombo's plushest residential areas. The area gets its name from the large Cinnamon plantations that were in existence during the 18th century. Many of Colombo's aristocratic families and diplomats live in Colombo 07 while many of Colombo's 'elite' schools such as Royal College, Ladies' College, D. S. Senanayake College, St Bridget's Convent and the University of Colombo are also located here. In short, Colombo 07 can easily be identified as the most affluent area in Colombo.
Marvel at ancient rock inscriptions, palm leaf manuscripts, fossils, jewelry, paintings and a taxidermy jungle at the National Museum located in Colombo 7.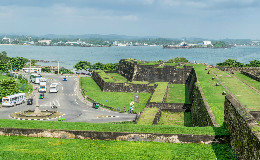 Placed in the southern city of Galle the Fort is one of the main attractions of the Galle city. Due to the colonial architecture and its historical value the Galle Fort stands today as a World Heritage Site recognised by UNESCO. Today there are a few old churches which are well maintained and the stables are used to house the Fort Museum and many shops and cafes are scattered inside the Fort premises targeting the tourists that frequent the area.